Unique, One-Of-A-Kind Regenerative Art
Custom Oil-On-Canvas Pieces Created Just For You
Thriving Community of Art-Loving Professionals
When is the last time you owned a piece of art that lowered your blood pressure, lifted your spirits, and birthed a great conversation?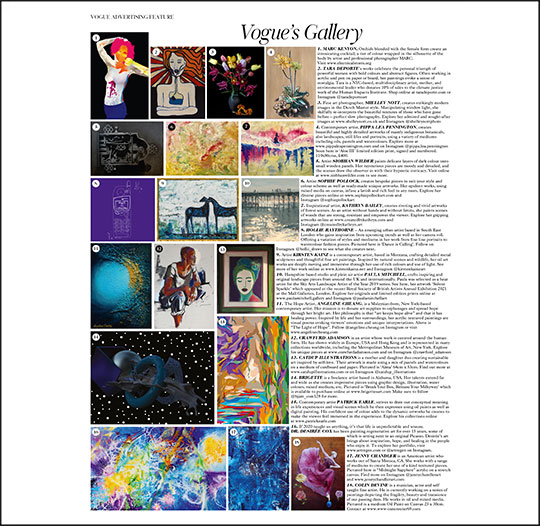 See Grace and other transformative art from Dr. Desirée Cox showcased in British Vogue's exclusive summer art campaign!
From May to July 2021, select one-of-a-kind paintings from Dr. Desirée's extensive collection – all available for purchase – will be featured in British Vogue's retail digital online gallery, as well as in three premium print issues of the magazine.
To view Dr. Desirée's art in British Vogue, please click here.
We get it. As a busy professional,
it's difficult to find amazing, one-of-a-kind art.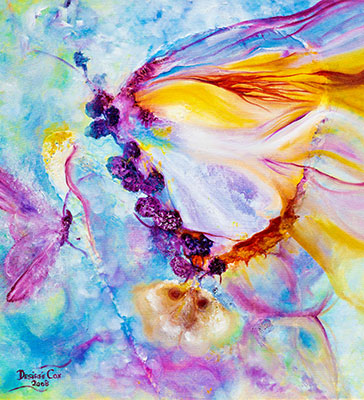 Which is why for over 15 years, Dr. Desirée Cox has been painting regenerative art, some of which is hanging next to an original Picasso. Her work brings about hope, healing, and a sense of community in the people who enjoy it.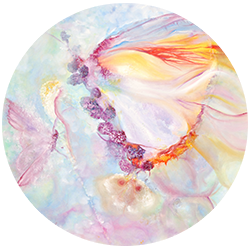 "Butterfly. I love this painting. It's one of favorites of Dr. Desiree's paintings. It hangs on the wall right near the door at entrance to my home. So many friends, family and guests have marveled at it over the last 13 years when they've visit me. Brilliant yet ethereal and light. Always brings a smile to my face."
Dr. Harry – Medical Doctor, Aviator and Historian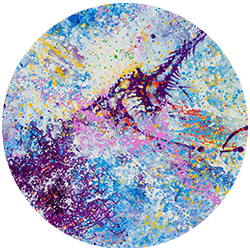 "Cosmic Sunsplash. We love this gorgeous painting. When the painting came and we unpacked it we were blown away. Peace in the morning light' is how I would describe it. It hangs in its rightful place with a Picasso to the left and a Chagail to the right. Colorful art created with love. We are thrilled to have a piece of Dr. Desiree's here in our home."
Dr. Marc – Medical Doctor and Entrepreneur
"Tears ran down my cheeks when I first saw 'Stairway to Heaven' at Dr. Desiree's exhibition in 2008. I imagined looking at the painting every day after receiving chemotherapy and the light and colors bringing me inspiration and hope for healing. This painting has been such a gift."
Mrs. Stephanie – Cancer Survivor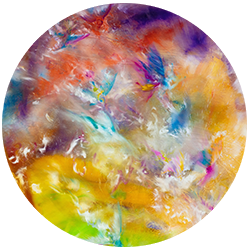 "I have no words to describe my feelings about the painting 'Ascension' and its significance for me. I wish I could transform my feelings and send them in a better form than a testimonial message. I knew from the moment I saw this painting on the computer screen that it was destined to come to my home. When I opened the box and saw the painting, the colors and the frame I was stunned. It was as if it was painted just for me and the frame tailored to my living room. I will shelter and adore it to the end of my days. When I read the dedication plaque Dr. Desiree sent to me along with the painting I cried like a baby. Thank you from the bottom of my heart for creating this painting Dr. Desiree. I know this painting will bring part of my journey and healing and hope to recover from the loss of my love."
Mrs. Agata – Businesswoman
"Dr. Desiree's painting 'Flash Insights" hangs on the wall in my home office. Amazing, vibrant, so alive. So often over the years, I just sit back in my chair and stare at it, taking in the experience, basking in the magical cosmic beauty of the piece. I love it."
Mrs. Elisa – Therapist and Former Corporate Lawyer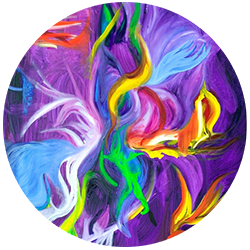 "I fell in love with 'Organic Power' when I saw it Dr. Desiree's exhibition in 2007 and when she sent me a picture of 'Blue Rapsody' in 2020 I snapped it up. Gorgeous images. Cosmic, heavenly spiritual. Both of them hang prominently in my living room. I see and experience them differently every time I look at them."
Mr. Theo – Business man, Entrepreneur, Artlover and Healer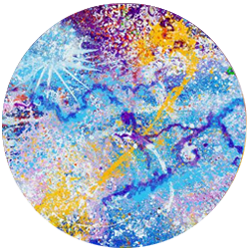 "Beautiful, mesmerizing, complex, infinite, epic, gorgeous – these are all the words that come to mind when I see this painting. My life is always full of people, patients, pressure and noise. The daily opportunity to fully experience this piece alone in the morning after a swim and with my coffee is truly replenishing for my soul. Thank you Dr. Desirée Cox for blessing me and my home with your ArtRegen creation 'Lunar Essence.'"
Dr. Araba
Join Our Art-Loving Community with 3 Easy Steps:
STEP 1: Schedule a Consultation or Browse Current Inventory

Browse our shop page for available prints and paintings, or schedule a consultation with Dr. Desirée to discuss canvas options, your personal likes and dislikes, and what design elements speak to you.

STEP 2: Select Your Perfect Painting

Whether it's from our existing inventory or a unique piece created just for you.

STEP 3: Enjoy Your Regenerative Art

And become part of ArtRegen's fast-growing community of accomplished professionals and art-lovers.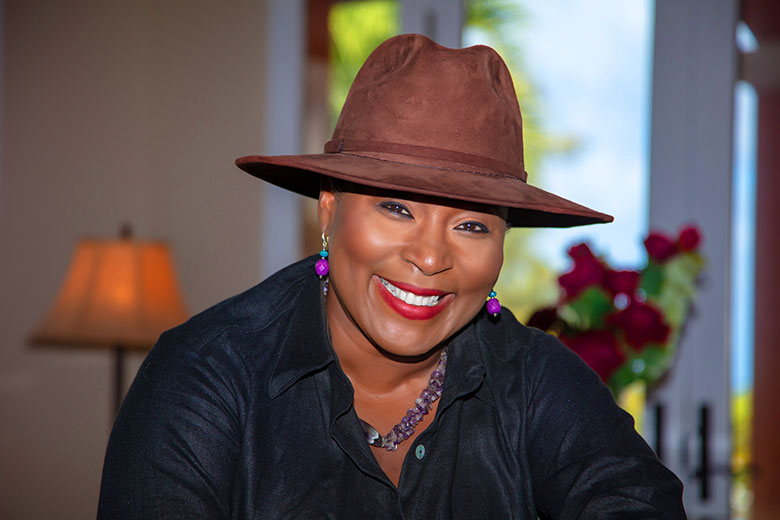 At ArtRegen, we know you want to be a confident and sophisticated professional. In order to do that, you need great art that achieves status, uniqueness, and self-actualization.
The problem is, it's hard to find art that can do all of that – which makes you feel frustrated and like you're missing out.
We believe it's wrong for you to feel like this. You deserve art that's good for your soul and shows everyone who you are.