We'd love you to visit the Pop-Up Exhibition nearest you. For Pop-Up Exhibition visitors, we have a special gift. ArtRegen is offering a one-time-only gift code to first-time buyers of our regenerative art. Use the code "WELCOME30" when you check out to get 30% off your artwork.
Dr. Desirée's regenerative art is now on tour! Her limited time offer "Paradise Visions" pop-up exhibition began in The Bahamas where she was born and is now set to tour throughout the U.S., where Dr. Desirée now lives. Dr. Desirée's original one-of-a-kind paintings and limited edition giclées, many of which have been featured in British Vogue, House & Garden, and Tatler Magazine this year, will be traveling with the exhibition and are all available for purchase on a first-come, first-serve basis. Stay tuned for more information and dates for the U.S. tour. Click here for Dr. Desirée's biography and here for Dr. Desirée's artist statement.
PHOTO GALLERY AND SELECT TESTIMONIALS
We're excited to announce that although the 'Paradise Visions' Pop-Up Exhibition has only made one stop on its tour so far, we've already had a number of originals sold. The launch in Nassau was a huge success, and we anticipate some of the larger pieces – such as Dr. Desirée's newest piece, "Freedom" – to be exhibited in a commercial space soon. Take a look through our gallery below to see pictures and read testimonials of our ArtRegen clients who purchased original Dr. Desirée Cox paintings and are now experiencing the many benefits of regenerative art.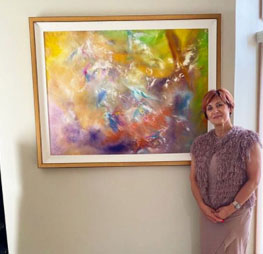 I have no words to describe my feelings about the painting 'Ascension' and its significance for me. I wish I could transform my feelings and send them in a better form than a testimonial message. I knew from the moment I saw this painting…that it was destined to come to my home. When I opened the box and saw the painting, the colors and the frame, I was stunned. It was as if it was painted just for me and the frame was tailored to my living room. I will shelter and adore it to the end of my days. When I read the dedication plaque that Dr. Desirée sent to me along with the painting, I cried like a baby. Thank you from the bottom of my heart for creating this painting, Dr. Desirée.
Mrs. Agata, Businesswoman
Beautiful, mesmerizing, complex, infinite, epic, gorgeous – these are all the words that come to mind when I see this painting. My life is always full of people, patients, pressure and noise. The daily opportunity to fully experience this piece alone in the morning after a swim and with my coffee is truly replenishing for my soul. Thank you, Dr. Desirée Cox, for blessing me and my home with your ArtRegen creation 'Lunar Essence
Dr. Araba, MD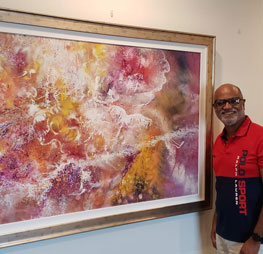 I was blown away by the 'Paradise Visions' Pop-Up Exhibition in the Bahamas. The paintings were magnificent. I was drawn to 'Metamorphosis' and was haunted in a good way by it. I left the exhibition, called back for the dimensions, came home, and was still consumed by the beauty of it. I called Mr. Aitken (the owner of the exhibition space), and I told him I must have it. I cannot wait to welcome it home. Dr. Desirée is truly gifted and blessed beyond measure.
Dr. Vaughan Con, Dentist and Art Lover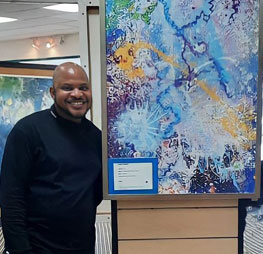 Only a small number of giclées are manufactured from Dr. Desirée's original paintings. This limited edition print of 'Lunar Essence' was snapped up by Mr. Seymour on opening night of the 'Paradise Visions' Pop-Up Exhibition in Nassau, Bahamas.
Mr. Seymour
It was four years of searching for that piece of art. We specifically wanted a vignette of lavender hues, something that would be just perfect for our French-inspired café.
After viewing – or, shall I say, auditioning paintings and many other beautiful pieces of art – my heart still said to hold out. I knew that painting was out there, waiting to find her home.
I have known Dr. Desirée Cox for years as an academic, prolific researcher, author, and now artist with the ability to create awe-inspiring expressions on canvas.
As a creative and art collector, I am moved visually, but the unifying principle is how the art speaks to my soul. The moment I saw this piece, the connection was made and I knew she was the one. The color, texture, image, and subtle and graceful movement spoke unilaterally to me, the beholder. I was immediately transported to where I would like to be – Paris in the spring, or the Sistine Chapel in Rome on a hot sunny day, or a pristine beach in the Bahamas. "Virtuoso" is precisely what I have been waiting for – and she is happy to have found her new home at Café Channing Noelle, Nassau, The Bahamas.
Loretta Thomas, Owner of Café Channing Noelle & Patisserie in Nassau, Bahamas
"Dr. Desiree's painting 'Flash Insights" hangs on the wall in my home office. Amazing, vibrant, so alive. So often over the years, I just sit back in my chair and stare at it, taking in the experience, basking in the magical cosmic beauty of the piece. I love it."
Mrs. Elisa, Therapist and Former Corporate Lawyer
"I fell in love with 'Organic Power' when I saw it Dr. Desiree's exhibition in 2007 and when she sent me a picture of 'Blue Rapsody' in 2020 I snapped it up. Gorgeous images. Cosmic, heavenly spiritual. Both of them hang prominently in my living room. I see and experience them differently every time I look at them."
Mr. Theo, Businessman, Entrepreneur, Art Lover and Healer
Insider's View
Click the video below to get an insider's view into the 'Paradise Visions' Pop-Up Exhibition, which first launched in Nassau, Bahamas, the country of Dr. Desirée's birth. Many of these paintings will be replaced with new original paintings in Dr. Desirée's U.S. tour.
For updates on upcoming tour U.S. locations, dates, registration deadlines and more, make sure to follow Dr. Desirée on Instagram at